A place to post and discuss decision models. See: O.O.D.A. loop, W.I.N., K.I.S.S., Hick's Law.
To begin discussion, pertaining to combat leadership where decisions are sometimes made on a whim, with little information under extreme duress I have came across an individual single-process model. "WIN". What's Important Now? I find it perfect for stressful events, and it adapts to wide spectrum of circumstances - even to battlefield advanced trauma life support, room clearance or reclearance and leadership. It is being adopted by our Police and Military nationally as a snap-decision process aid, for those times when you just can't think for the life in you. Pure helmet fire, mind-rush situations.
Sometimes for example when you're dealing with or have dealt with an immediate threat, you are treating a casualty who is bleeding extensively, you are mind-clustering to recognize a task you just stop and ask. What's IMPORTANT now? What pertaining to the task. Important pertaining to priority, triage in a way for trauma (i.e. immediate life-threatening hemorrhage over airway checks). Now means right at this present moment, without too critical or supplementary thoughts. It's a small model that simply gets you on track when you're running off it. It may not necessarily develop you to do things in perfect order, but the modularity of simply applying prioritization to a task and progressing with it allows you to adapt to the situation, and not policy or procedure to the situation.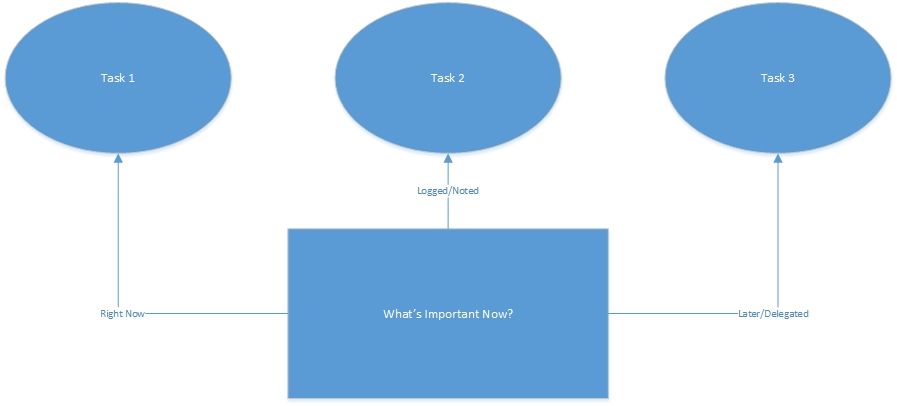 You can apply it anywhere. It's a back-up, it's not for primary thought. It's just a "I'm stuck", "I'm lost", "My head is elsewhere" - OK, WIN? Right, this, done. For example if we are too focused on the big picture or specific slices of our reality, i.e. say the operation, taking the suspect. And we finally do that - we often have to "come around" to what's coming next. At least... it's good for the inexperienced and those who are finding it a challenge.