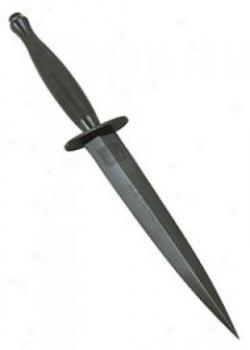 The Fairbairn–Sykes fighting knife is a double-edged fighting knife resembling a dagger or poignard with a foil grip developed by William Ewart Fairbairn and Eric Anthony Sykes in Shanghai based on concepts which the two men initiated before World War II while serving on the Shanghai Municipal Police in China.
The F–S fighting knife was made famous during World War II when issued to British Commandos, the Airborne Forces, the SAS and many other units, especially for the Normandy Landings in June 1944. With its acutely tapered, sharply-pointed blade, the F–S fighting knife is frequently described as a stiletto, a weapon optimized for thrusting, although the F-S knife is capable of being used to inflict slash cuts upon an opponent when its cutting edges are sharpened according to specification. The Wilkinson Sword Company made the knife with minor pommel and grip design variations.
The F-S knife is strongly associated with the British commandos and the US Office of Strategic Services (OSS) and Marine Raiders (who based their issued knife on the Fairbairn-Sykes), among other special forces / clandestine / raiding units. It features in the insignia of the British Royal Marines, the Belgian Commandos, the Dutch Commando Corps, founded in the UK during World War II, the Australian 1st Commando Regiment and 2nd Commando Regiment, and the United States Army Rangers, both founded with the help of the British Commandos. A solid gold F–S fighting knife is part of the commandos' memorial at Westminster Abbey.
Can't argue with that...
"A knife is a mirror, a magnet, a can-opener, a tree-cutter, a fighting tool."
You can split the knife into handle, hilt or cross-guard, the blade and the tip. They can all be used in someway or another, for example the hilt/cross-guard can be used as a pressure point weapon, as well as a blunt hitting tool.