I play this game on facebook - I post up a "spot the mistake" picture and get people to analyze it. Going to give it a go here!
An example before the real one:
The replies, and discussions that lead on, were:
"Stack being lead by a pistol wielding operator backed up by two others with HK MP5's."
"Way too far apart, for example....not to mention: who is aware of the window?"
" Looks like a three men stack... No1 preferably MP and not pistol, No 2 should cover a different sector, No3 cover rear...."
"My eyes may deceive me, but do I see a finger inside a trigger guard? What Col. Cooper would have called rule #3. Violating that is an automatic bounce in some outfits."
"Number 3 man looks to have his gun pointed at the back of number 2"
"And cover the window?"
Mistake category list - covering, trigger safety, muzzle sweeping, stack/movement distance, sectors of fire.
Believe it or not this picture was from a Suarez DVD about close quarter combat. Not to nitpick but if a picture for promotion can find many errors then you may want to swap out the picture! Personally such evidence of shit tactics and tactical proficiency leads me NOT to buy the said product. Also, I don't agree with some of the comments FULLY - to the point where it may just be fallacy - but I do agree with most. I also find that analyzing photos is a good reference for frame-analysis rather than a fluid motion. Once you get really good at eye'ing up a frame and getting the jist then fluid motion becomes easier in which to spot micro-mistakes. Any mistake in CQB can get you killed, micro-mistakes certainly add up a hell of a lot more than in the field!
Another problem with analysis of such is: The second man may be covering a balcony above and he may have contact, the third man judging by shadow is probably off-line to second and therefore not muzzle sweeping. The distance may be an SOP or due to an engagement. People under estimate how engagements and being under fire can break tactics and what to do's. Also differentiating such dependent on team, unit, military vs LE vs civilian, location, scenario - it gives you a holistic point on the picture.
Anyways, here goes with a proper one. Let's see what you can spot.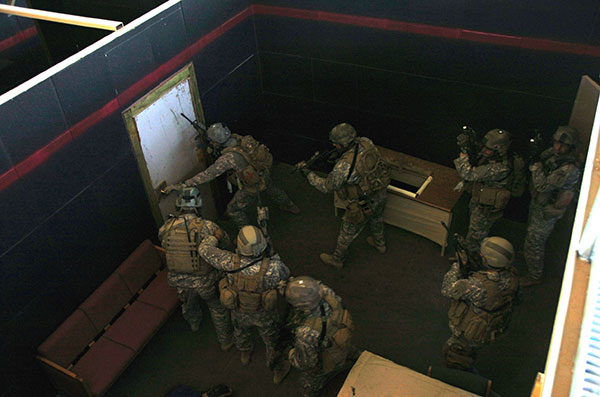 "Special Forces soldiers assigned to the 10th Special Forces Group (Airborne) stack up in preparation to enter and clear a room during a CQB exercise at the 'shoot-house' at Fort Carson, Colorado."