I think a circumstance where an open door has to be passed is when there is only a small team clearing rooms and has to get to a particular room quickly.
Now as for a technique that would allow you to do this safely would probably be to pie the doorway. Now if your in a hallway and a threat might pop out and shoot the operator pieing the doorway then you'd probably want another operator to move with the pieing operator to protect him by covering what ever is down that hallway.
Here is a quote from an article where you can find the technique:
http://www.policeone.com/writers/columnists/calibre-press/articles/1298389/

wrote:Schlegel and his teaching partners, Rick Rector and George Creamer, favor clearing much of the room and processing that information from outside the doorway before making entry, if possible. Their preferred technique is "slicing the pie."

Assume a three-officer cell is moving down a hallway approaching a bedroom doorway on the left, with another uncleared room farther ahead.

In a continuous, fluid motion, the first officer "pies" across to the opposite (right) side of the bedroom door with his gun up, ready for an encounter that might originate from inside the room. The second officer moves with him but his concentration is down the hallway, protecting the team from a threat that may emerge down range. Officer No. 3 stays on the left side of the door, monitoring what he can see inside the bedroom from his vantage point.

By the time the first and third officers make entry, they may have been able to visually clear 75% or more of the room, thereby significantly minimizing the unknown risk they may confront there.
And here is an image of what I think the technique is supposed to look like (except it's a closed door):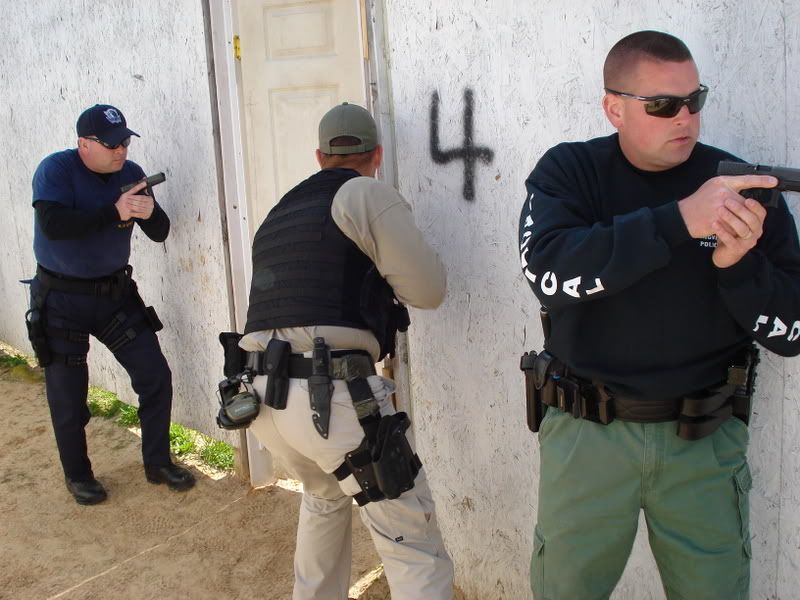 Source of image
The only problem I have with the technique is that it is too time consuming and should probably be only used in stealth mode. Perhaps there is another technique that would be faster but not sacrifice safety too much? Otherwise the only alternative I have is actually clearing each room.
P.S: The forums I got the pic from is a law enforcement forum and that particular thread I got the pic form is about one of Mr Howe's "CSAT Advanced Patrol Tactics" classes. I think that is a pretty cool thread there.