Squaring Off Parallel from the Doorframe, Distancing Your Entry...
In conventional units with rigid techniques and procedures we usually see the entry team stack, immediately enter as soon as the go is given and conduct their SOP room entry. There are a few problems with this...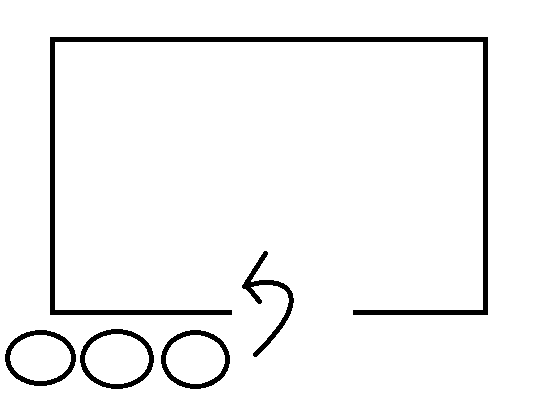 My fantastic drawings. An example of above. Stacked and traditional (rigid) entries.
If you are against a prepared threat in the middle of or far corners of the room, it leaves you little time to act. Your initial view front is limited to seconds (even milliseconds), while moving, accompanying gear and weapon(s)... WHILE the rest of the team is coming behind you.This is dangerous, further points:
1. You have usually pushed past the fatal funnel before the weapon is up mid-line and able to engage, in an immediate entry you are usually silhouetted in the doorway as you come to a capable point to engage the threat,
2. The reactionary gap to engage a threat is measured in seconds, milliseconds or even at all (if you ignore the threat or are corner fixated) and if the threat is trained on the door it is measured in lives, and pulls the operator into a one-on-one shootout in a narrow architectural funnel, negotiating further obstacles,
3. You have flank exposure, target fixation and thus the ostrich effect is in play, you do not notice any further threats for example in your corners, until you either make the decision to engage or ignore the threat in front of you, as this is happening you may be exposed side-plate on or front-plate on to corner threats depending on the method of movement and direction of travel,
4. Shooting the threat would have you in a tactical dilemma, ignoring the threat the same. You could stop, halting the entry and cause a ripple of problems. You could move in and shoot at the threat, allowing upper body leverage to allow shots off but exposing to the corner. You could ignore the threat and move into the corner, into a very small unknown area and field of fire, to quickly clear in hope to clear it and sweep back into the threat. Unrealistic? I think so.
Reference to you, you are doing what you have been taught and the risks are known. Reference to your mates, they will push you in (i.e. commitment) if you stop or pile into you (i.e. bunching) if you try to back out or break contact. Reference to the enemy (front) you're in his direct line of site, your weapon is either still coming up if you are traditionally entering with long-rifles, and if it is shouldered then the firefight will be measured in reaction, action, luck and time to execute. The enemy can remain stationary, you will still have to negotiate the room and clear your corners. Reference to the enemy (near corner) you will conduct the entry technique coming in-line with enemy, and usually in-line with the muzzle of the enemy if they are prepared and hugging a corner, and thus again the measurement is in reaction and action.
So squaring off and distancing the entry. What do I mean?
You square your shoulder and foot towards the doorway, offset from the door itself so you are not static against the wall. You are offset from the wall. You are square-off, as like pie'ing, so you do not over-expose to one side, and you can get a peak into the room, or move into the line of sight of the doorway to get a shot-line through before crossing the threshold. You away around a meter or half a meter from the threshold.
So, squaring off and stepping away from the entry, the first man creates a longer reactionary gap allowing him to engage the face-front.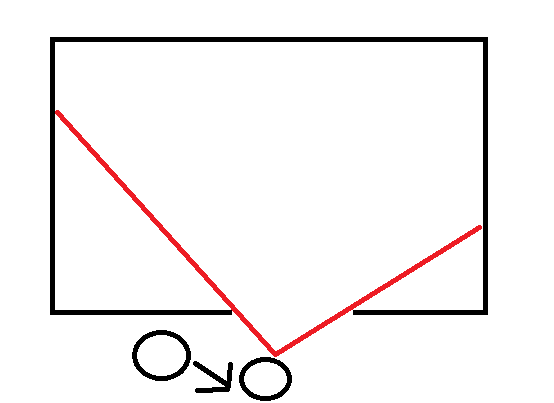 Better field of view into the front-face of the room. You are not exposed to your obliques (flank security).
You can do this while moving, risking exposing more of your body but you can push into the middle of the fatal funnel before striking the threshold, allowing you to shoot the immediate threat and then move in or as you move in, with a better reactionary gap to engage then move into a corner. You can also break contact if needed as you can break away at any point with front-on threat.
Depending on how quick you can turn-in to your corners, speed may be a little bit slower with this technique from threshold to corner. In a buttonhook you are navigating a wide angle, quite like racing, where your cornering speed may be slower. For some it isn't, but just a note because when you square off against a doorframe and then move towards it to turn inwards then it can be slower especially if it is on your weak side. So the initial threat may be killed and you left in a better position but clearing your corners after initial engagement would have alerted a contact there, and thus taking you corners has to be strong. But the good news? You can lateral entry, do a number of things rather than traditional entries because your front is clear and the easy corners are clear, the space is there to move - and the unknown, 'hot zones' are left, only two areas which you can maneuver to. On the other hand add furniture, etc, and you'll have a harder time but at least you're not walking into a multi-weapon engagement with multiple combatants.
This is similar to where a coverman may go on the long axis, for the best angle on entry, to clear ahead of you before you move in. For example you have a wide opening pushing to the right. The coverman would be on the left side, with the rest of his team on the right wall, to peak to the right past his team for the largest angle, once it is clear, the stacked team on the initial right side would move on the go. The difference is this method is that it is pretty static as opposed with distancing the entry, which is done by the pointman on the fly, ad hoc so to speak, with a simple change in direction of travel it can give them better success against an immediate threat.
Here's a real-life example:
Sorry for the bad drawings but I hope you understood. Your thoughts on squaring off and giving some distance to the entry in preparation for immediate threats?