Just starting another topic on equipment used to recon the area, the bad guys and anything else. Please add to it as you see fit.
I'm trying to add a title, description and picture for each item. I will try to add some tips for using and procedures later.
Good, high-powered optics:
High power optics, so you can analyse every detail. This allows you to be as far away as possible, minimising risk. This is known as 'eye-balling' the target, no technology is as detailed as the human eye.
British SAS, Afghanistan with a high-powered optical device.
This may be as simple as binoculars in some cases. It is always good to cover the lense with light-cloth or material you can see through to prevent shine. If this is not possible then hold the binoculars sideways and look through one lense with one eye; therefore minimising shine.
Camera and Other Identification Equipment:
Video-camera or a photographic camera. It must have a large zoom. From pictures you can determine who the person is in most scenarios, unless there isn't any information on that person.
British SAS, Afghanistan, with a high-powered camera.
1st Brigade Combat Team, 82nd Airborne Division, uses handheld interagency identifying detection equipment, and facial recongnition software to record the iris of Pfc. Eric V. Rothenberger during a battlefield forensics class at the Joint Readiness.
Fibre Optic Scopes:
Endoscopes, optical wands, mirrors or fibre optic scopes are used to look under doors, within cracks in walls, under and around windows, ventillation shafts and anywhere else it can fit. They are mainly used in close quarter battle to get the edge on the enemy. You look at the architecture of the structure, the furniture and obstacles as well as looking for enemy or hostages.
Recording Equipment:
Microphones are used to record conversations and other things going on within a target building. But they are easily jammed, damaged or muffled out. This equipment may be as simple as phone calls, hotline calls with bugged telephone equipment or even CCTV equipment.
Schematics:
Schematics are used to gather intelligence on room layouts, floor plans, building layouts, material used and other factors.
Forensic Evidence:
Taking forensic scientific evidence from the scene, or close by to the scene to try and determine who it is and/or what has occured. It may also come up with results on materials, types of equipment and more information that will lead to knowing who manufactured it (weapon markings), where, when it was used, how long ago and other factors.
In the military, using computers and enormous databases, information analysts are better than ever at weaving together a flow of biometric data-mostly fingerprints-collected from the field to identify individual insurgents. DNA testing, measuring the body, facial recognition, weapon markings are all common methods of identification.
1st Special Operations Security Forces Squadron takes a DNA sample from a soda can during a tactical evidence collection simulation during the Emerald Warrior Exercise. The forensic evidence collected from the scene could result in the identification of other high value targets.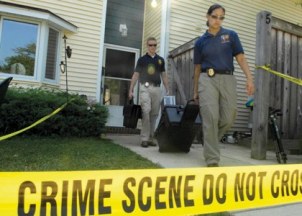 US Police taking evidence for forensic input.
Electronical Intelligence Gathering:
This means checking through computer hard drives, documents, DVDs, thumb drives, and electronic equipment.
Laptop:
Good, high-powered, high-battery life laptop. To store photo's, data, transfer them and even have real-time communication and image displays. This may mean taking an internet USB with you or other items to share data through the internet or secure database - this may include transfering it via a USB device on resupply, when at a base, to other units who can transfer that data, etc.